At The Head and Neck Center, P.C., all of our professionals are fully trained and experienced to provide you with the best healthcare related to your ear, nose and throat issues. We want you to trust that you are getting the highest quality care each time you come to see us. But we're also people just like you – we have families and pets, we're parents and grandparents, we participate in sports activities and try to stay current with the news. We combine our expertise and professionalism with a personal, responsive and caring attitude to make you as comfortable as possible with our practice – whether you're sick or well.
About Us
The Head and Neck Center, P.C. is the #1 choice more physicians and doctors recommend. And with good reason. Our renowned team of experts works together to determine the most effective course of treatment. Thanks to more than 30 years of experience, our exceptionally trained team of specialists provides unmatched patient care. And that's why more physicians trust us to care for their patients than any other Lehigh Valley area practice.
---
Physicians
Andrew J. Pestcoe, DO, FAOCO ENT
Bethlehem, PA
The Head and Neck Center, P.C.
Board Certified by the American Osteopathic Board of Ophtalmology and Otolaryngology - Head and Neck Surgery, Dr. Pestcoe is affiliated with Lehigh Valley Health Network, the Surgery Center of Allentown, and St. Luke's Hospital. He is an honors graduate of Temple University and graduate of the Kansas City University of Medicine and Biosciences.
Dr. Pestcoe completed residency training in Otorhinolaryngology and Facial Plastic Surgery at Union-St. Barnabas Hospitals (New Jersey). He also received specialty training at Memorial Sloan Kettering Cancer Center, Children's Hospital of Los Angeles, New York Eye and Ear and Michigan Ear Institute. Dr. Pestcoe has been elected a Fellow of the American Osteopathic College of Otolaryngology, Head and Neck Surgery. He also holds memberships in the American Osteopathic College of Otolaryngology - Head and Neck Surgery, the American Osteopathic Association, the Pennsylvania Academy of Otolaryngology - Head of Neck Surgery, the Pennsylvania Medical Society and the Pennsylvania Osteopathic Medical Association. Dr. Pestcoe is a member of the American Academy of Otolaryngic Allergy(AAOA). Dr. Pestcoe's special interests include allergy diagnosis and treatment, pediatric surgery, endoscopic sinus surgery, and surgery involving diseases of the ear, including surgery for hearing restoration.
Dr. Pestcoe has served on the Board at Camelot for Children for over 20 years and is currently serving as the President for Canine Companions for Independence - Lehigh Chapter.
---
Amy Harrington, PA-C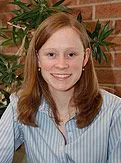 Amy Harrington is a board-certified Physician Assistant. She received her medical training from DeSales University with a Masters of Science degree in Physician Assistant Studies. Her class completed the Physician Assistant National Certification Exam (PANCE) with a 100% first-time pass rate and was listed in the 98th percentile in the nation.
She completed her undergraduate studies at Houghton College where she graduated Magna Cum Laude. She majored in Biology with minors in Chemistry and Spanish.
Mrs. Harrington is a member of the American Academy of Physician Assistants, Pennsylvania Society of Physician Assistants and the Society of Physician Assistants in Otorhinolaryngology, and Head and Neck Surgery.
---
Audiologists
Barbara G. Matheson, MA, CCC-A
Barbara Matheson has been a licensed and certified audiologist since 1987 and was also certified in Speech-Language Pathology in 1983. She earned a Bachelor of Science degree in Speech Correction from East Stroudsburg University in East Stroudsburg, Pennsylvania. She also received a Master of Arts degree in Communicative Disorders and Sciences from The Wichita State University where she also earned a second Master of Arts degree in Audiology.
Ms. Matheson is licensed by the Commonwealth of Pennsylvania to practice Audiology. She holds the Certificate of Clinical Competence in Audiology as well as Speech-Language Pathology from the American Speech-Language-Hearing Association of which she is a member.
Ms. Matheson has practiced as a Speech-Language Pathologist with both children in a special education program as well as working with neurologically impaired adults at The John Heinz Institute of Rehabilitation Medicine. She has also had the opportunity to practice Audiology in a variety of capacities. Prior to joining The Head and Neck Center, Ms. Matheson served as the Chief of Audiology Services at St. Luke's Hospital in Bethlehem, Pennsylvania. She has extensive experience in hearing aid dispensing for both children and adults as well as in advanced computerized testing of hearing, tinnitus, and vertigo.
---
Nancy Napolitano
Nancy Napolitano has been a licensed and certified Audiologist since 1990. Nancy earned her Master of Science in Communication Disorders/Audiology in 1989 from the University of New Mexico. She has held her license in Audiology in the Commonwealth of Pennsylvania since 2002.
Prior to joining the Head and Neck Center, Ms. Napolitano served as Interim Director of Audiology at St. Luke's University Health Network in Bethlehem and was the primary audiologist in a private practice. She has extensive experience in hearing aid services for both adults and children, as well as diagnostic testing and evaluations. In her spare time, she is a fused glass artist, loves to garden and is an avid reader.